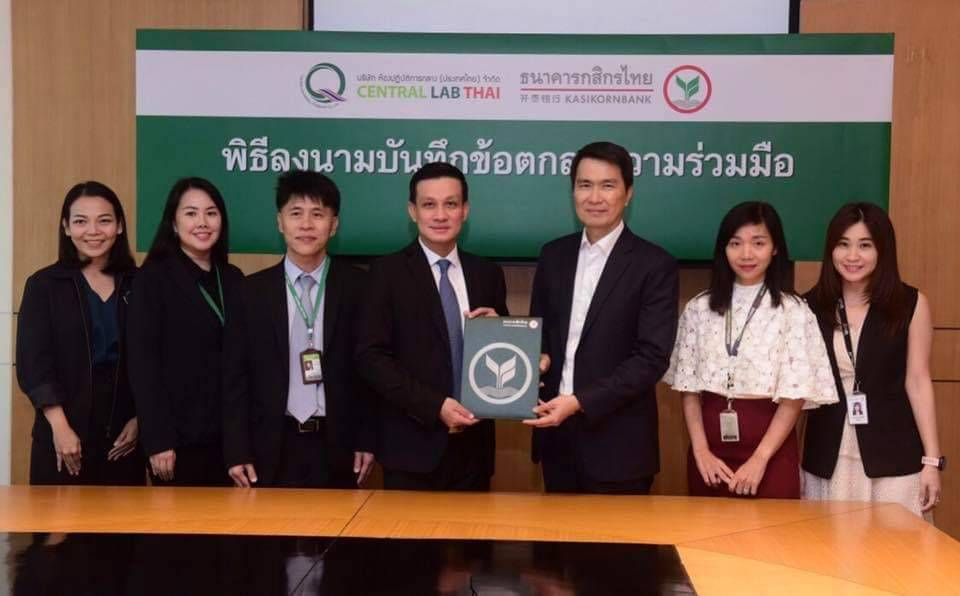 KASIKORNBANK (KBank) teams up with Central Lab Thai to support SMEs in upgrading their product standards on a par with the required international standards. Participating SMEs are advised to have their products and facilities inspected by experts in order to build confidence in their trade partners over the long term. They will also enjoy a 20-percent discount when using laboratory testing services at Central Lab Thai and a poll of knowledge on finance, investment, laws and regulations for sustainable business operations from KBank.
Mr. Surat Leelataviwat, KBank Executive Vice President, said SME businesses have played an important role in Thailand's economic development. While SME businesses have exhibited consistent growth, most of them are still facing a pain point of maintaining product quality to meet global standards. Stringent controls on product quality and safety standards in world markets are now a constraint for SMEs' exports or even for goods distribution in leading modern trade venues or supermarkets in Thailand. Such limitation also prevents SMEs from getting access to funding sources in the system.
With the aim to enhance the product quality of SME businesses to match international standards, KBank and Central Laboratory (Thailand) Co., Ltd. or Central Lab Thai have signed a memorandum of understanding to help KBank's SME customers to join the Central Lab Thai's project to inspect the quality of products, plants and business venues. Central Lab Thai offers laboratory testing service that has been widely recognized by importers and merchants in Thailand and other countries. Certified products will gain more value added and greater market opportunities, domestically and globally, and will therefore get a better access to financial facilities. In addition, KBank will provide knowhow on finance, investment and online marketing techniques to enhance sustainable operations and competitiveness of those SMEs.
Lt. Col. Naravit Pao-in, Managing Director of Central Laboratory (Thailand) Co., Ltd., or Central Lab Thai, said that the company provides laboratory testing service for products and services under the ISO/IEC 17025 standard and other requirements determined by the government. Of late, many countries have placed more importance on quality control and safety standards, especially for foods, beverages and water including packaging, business facilities and factories. The company can provide advice on these issues to SME entrepreneurs.
SME operators seeking to branch out to other countries or diversify their sale channels have shown greater interest in using laboratory testing services with the company. Currently, the company has six branch offices located in major production areas including Bangkok, Chiang Mai, Khon Kaen, Chachoengsao, Samut Sakhon and Songkhla. This collaborative effort between Central Lab Thai and KBank will help broaden business opportunities for SME entrepreneurs.
KBank's SME business customers who use laboratory testing services with Central Lab Thai are entitled to a special discount of 20 percent on regular fees charged, as part of the company's effort to encourage Thai SMEs to upgrade their product quality to be on par with global standards.